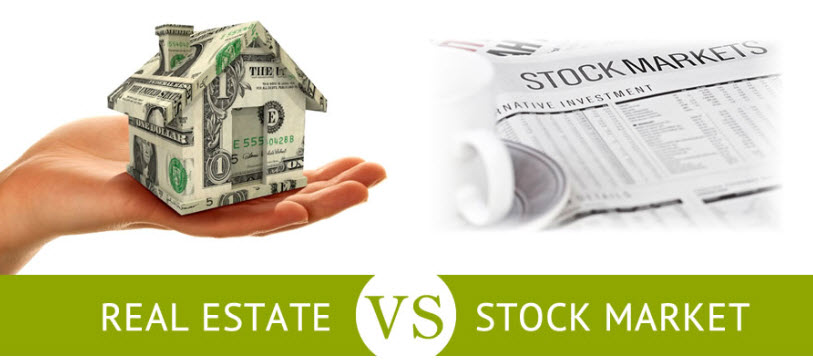 People often want to know how to compare investing in real estate with playing the stock market. Which is a better investment approach?
It's a good question, and I'm happy to give my take on it.
We'll begin by laying out what I'd like to be able to do in order to invest in stocks safely and profitably… and then see how that compares with my real estate options. Nothing real complicated.
So, if I were going to invest a significant amount of money in a company's stock – and I wanted to go in with eyes wide open and truly minimize my risk – here's how I'd ideally like to do it…
I Want to Physically Visit the Company and See How Things Actually Operate
That's right – I'd like to physically visit the company. Or at least its headquarters, and maybe one or two of its main factories (or labs or call centers, depending on the type of company).
You can learn a lot about a place just by being there physically…
Does the reality match the pretty brochures and Web images? Or is there a big disconnect in that department?
Do the employees and staff seem competent? Do you feel like you're seeing pros in action? Or are you amazed that a company can make any profit at all with a workforce and policies like this?
Wouldn't it be great to interview the CEO and Board of Directors?
Again, it's one thing to read a bunch of copy on a website or impressive talking points in an article – but when you meet folks and look them in the eye… when you see the Board in action over a three-hour session… well, that's on-the-ground reality. That's the kind of insight you'd like to have.
And it's almost certainly the kind of insight you won't ever get…
Because as a stock market investor, it just doesn't work that way. (As if you, a mere investor, would actually get to sit and talk with the CEO of some publicly traded corporation… or even an intern, for that matter!)
No, you'll most likely be relying on documents, recommendations, bits of digital information. Really, you'll be paying someone else to gather your information for you. If they're a good broker or company, they may do a good job. But you'll have to take most of what they say on faith.
But this on-the-ground "site inspection" stuff is exactly what you can do with real estate.
You can physically visit the properties you're looking to invest in. You can drive the neighborhoods ‒ you can drive the whole city, for that matter.
You can talk to realtors, folks in the neighborhood – in the shops and restaurants, wherever. You can get to know local business leaders.
If you want to buy multiple properties in the same city, you can learn something new about the area every time you visit – grow your network, increase your understanding of how the different parts of town differ, and where they're similar.
If anything doesn't match the "marketing materials," you'll know it.
I Want to Understand the Relevant Market Trends as Best I Can
With stocks, this can be very complicated.
There are economic factors in general… There are often varying factors that involve multiple continents and economic environments (maybe your stock's company is headquartered in the U.S., heavily dependent on raw materials from Africa and Siberia, and runs factories in China). Good luck untangling that web…
There are political factors related to obscure government regulations and changing political tides. ("Uh-oh, look who's likely win the presidency next year – and they've promised to impose strict limits on this company's market!")
Then there are the wildly varying predictions made by all the pundits… "This stock can only go up!" "No, it clearly can only go down from here." "Only a fool would stay in this market now."
(It's hard not to wonder if they're paid precisely to keep investors confused.)
Sure, if you can learn to read the tea leaves for yourself or find reliable information sources, all that could be kind of fun, I guess. But it's certainly not simple…
With investment real estate, though, the trends are easy to spot… and just not all that complicated.
Basic Web searches with a few easy-to-use sites yield all kinds of information… about sales prices, rental rates, buyers' needs, neighborhood dynamics, and more.
A relatively small amount of research (compared to deciding whether or not to invest in a uranium mining company, for example)… a few phone calls… and a drive through the neighborhood will yield an enormous amount of useful information about where your investment fits in with the most relevant trends you need to know.
For all practical purposes, you can become a market expert by getting some good training under your belt, being humble enough to learn, and using common sense. Your stock market investor friends would probably be envious to know even half the information you'll have at your disposal…
I Want to Know My Investment's Financials… Like the Back of My Hand
I want to see the numbers – the real numbers. The good, the bad, and the ugly.
I want to pore over them with a good accountant. Make sure no one's cooking the books. Make sure I know why they include this figure as an asset, and that one as a liability.
And speaking of liabilities… just what do they owe to whom – and what are the terms?
Again, for a large company, this would be very, very complicated.
And it's not really going to happen. I've got to trust the information that's in their annual reports, marketing materials, and so forth.
Not so with my investment properties…
Most of what I need to know is available as public records. I can see the mortgage for myself. I can find out the most recent sale price and typically see the financing terms. I can uncover any liens on the property.
Most of this is not only public record material – it's available online.
Even better, I can check the figures I see there against my own calculations… that I can do on a napkin or sheet of paper on a legal pad! Just a handful of straightforward calculations gives me tons of concrete information.
In short, I can know the financial profile of my investment very, very well. I can know whether it's a sound investment with a high degree of certainty – and how it's performing right now.
Conclusion: Go with Real Estate
For most people looking to fund their lifestyle goals and retirement by investing, real estate is a superior vehicle to playing the stock market.
Look, investing in stocks has its place for some investors. But you're always going to be taking a huge amount of your knowledge about those investments on faith. You'll be viewing them almost completely through a "digital lens," where all your information comes to you via pixels on a screen.
Even under the best of circumstances, you'll largely be dealing with a "virtual" understanding of reality.
Real estate investments are much more concrete. Yes, you get to take full advantage of digital tools, including robust Internet-based resources. But you'll be able to go way beyond that approach to a much more intimate, hands-on… and ultimately reality-based understanding of your investments.
You'll be able to know, even in a physical sense, things about your property that a typical stock market investor can only dream about…
Give us a call at (801) 990-5109 or schedule your free appointment
here
to build a personalized Wealth Plan. We're happy to help you understand how RP Capital can help you clarify and reach your financial goals by investing in real estate…